TWO GREAT WAYS to train in your home, office or on the road!
TotalCyclist coaches  are now on the cutting edge of Technology! Do you have one of the following?
Here's what WE CAN DO FOR YOU!
Option 1) WE can build workouts for you via Training Peaks "Workout Builder" AND then send them to you!
Option 2) WE can build workouts for you and your personal PainCave with a Wahoo Kickr/Computrainer/Other Ant+ via Perfpro Software
OPTION 1:
Tools needed: Training Peaks Software and Garmin (500/800/100) or Wahoo Elemnt /Bolt computer.
Workout files exported from TrainingPeaks are compatible with most indoor training applications and many Garmin devices. Workouts can be exported in .ERG, .MRC, .FIT, or .ZWO formats.  For FAQs, see this article.
If you have Garmin Connect IQ compatible device you can also wirelessly sync your structured workout of the day to your device using the TrainingPeaks Daily Workout IQ app.  If you have a Wahoo ELEMNT or ELEMNT BOLT your structured workouts can be synced directly to your device.
To export a workout that has been built with the Workout Builder, please click the 'Export' button in the upper right corner of Quick View.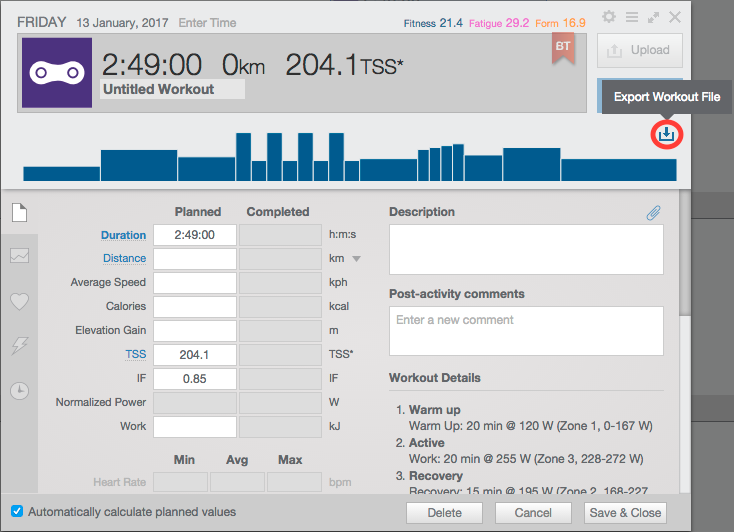 Option 2
Tools Needed: Ant + Trainer and Perfpro software.
TotalCyclist can build the perfect workout for your Computrainer/Kickr or any other Ant Plus device. TotalCyclist Training Centers use the extremely powerful PerfPro Studio Software
WE can build a series of workouts or just one. This is the difference maker because it takes the guessing out of training for you! We can simply share our Winter, Summer, Fall series programs…and more… with you…all at a deep discount.
The process is simple. You buy a Virtual package or the unlimited. We send you a special code to access the library. You load up PerfPro software. Hop on your bike. Do the workout!!! Voila, you get faster, better….without the hassle of having to do the build.
If you haven't received a response from us within 24 hours please call 704-376-7006 or email info@totalcyclist.com
We would love for you to subscribe